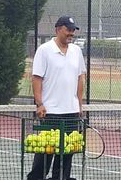 GAME, SET, MATCH
MTM Honorary Member Wes Fuller passed away on April 19, 2022 after a long and valiant struggle with illness.
Farewell, friend.
Wes Fuller, well-known and respected Tennis Coach in McDonough, GA and the greater Atlanta area, was originally from Camden, NJ. He played basketball and tennis in high school and was selected to play basketball at Northeastern University where he was a starter, 4 year lettermen and NCAA player.
Wes studied Computer Science, but after working for some time in that field he decided to go back to his first love…. playing tennis.
In 2010 Wes founded Competitive Tennis Coaches (CTC), which has grown to one of the largest coaching sites in the world where coaches from across the globe can share ideas and network.
This is where Wes first had the opportunity to meet and get to know Oscar Wegner. He credited Oscar with having a profound influence on his approach to tennis. When Oscar's Modern Tennis Methodology Coaches Association held a 3-day conference in Atlanta in 2015 Wes was there to help with the clinics.
Wes created forums on Facebook to bring coaches from all over the world together to look, listen, explore and share their diverse viewpoints and experience in all aspects of amateur and professional tennis. Wes also helped hundreds of national and international players get noticed and recruited to play college tennis.
Personally, Wes was first and foremost a family man, lovingly devoted to his beautiful wife and two daughters. Professionally, as a moderator, innovative thinker and hands-on tennis teaching professional Wes continued to expand his reach to grow tennis, improve the quality of tennis coaching, and communicate his love for the sport to countless coaches, parents and players. He became an inspiration to all through his fortitude and grace in the face of overwhelming odds.
He will be greatly missed.