Here is a sampling of our many talented MTM-certified coaches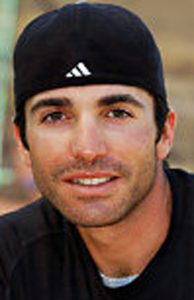 RANDY ARDENFRIEND Now at AAA Four-Diamond Florida Resort Longboat Key Club, Randy is one of the best exponents of coaching the Wegner Method and is in great demand as a coach of top players in Sarasota. Before moving to Florida he coached at the Palisades Tennis Canter in Southern California. Randy is the featured teaching pro on 2 of Oscar's DVD's "Advanced Tennis Techniques" and "Ultimate Professional Coaching Techniques".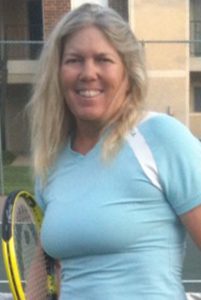 SUSAN NARDI As one of the founding members of MTMCA and the select group of elite coaches worldwide who have earned the Level IV Clinician/Tester Professional certification Susan Nardi has contributed greatly to the development of delivering MTM to children. She is currently Vice President Of Operations & Programs at LA Tennis in Southern California. She is also a distinguished member of the PTR, USPTA and WTCA and holds certifications in several athletic industry organizations. The Positive Coaching Alliance featured Susan at the 2021 National Youth Coaching Awards. She is the first tennis coach to received a National Double Goal Coach Award.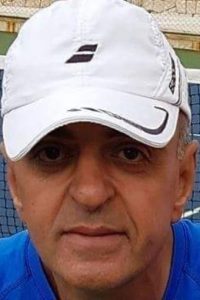 PHILIPPE MATTA has earned the title of MTM Level IV Clinician/Tester in addition to certifications with PTR, USPTA and GPTCA. He has independently established MTMCA Middle East/Africa to train, test and certify coaches throughout the Middle East, Arabian Peninsula and North Africa. Philippe has recently been named MTMCA Worldwide Certification Director.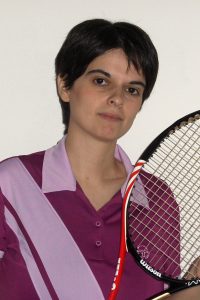 ELEONORA CALDERARO Is the President and Technical Director of MTMCA Italia. As Certification Director for Italy and Switzerland and MTM Level IV Clinician/Tester she has delivered clinics to hundreds of enthusiastic coaches.  She is also certified through the AICS, CSEN, OPES, TBI and is a member of GPTCA. Prior to starting MTMCA Italia she created her own tennis school in Celle Ligure and coached through the Italian Tennis School "Tie Break Team" .

RUSSELL GROGAN In addition to his Level IV Clinician/Tester MTM certification Russell is a former USPTA and PTR as well as USNTA lifetime certified professional. He has worked with state and nationally ranked players as well as Satellite and Future touring professionals. Russell is Owner, Director, and Head Pro at NeXXplayer Tennis Academy in Beaumont, Texas.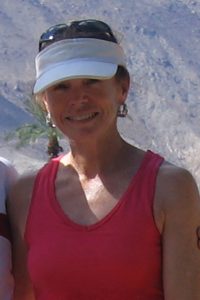 LUCILE BOSCHE´ Level IV Clinician/Tester, volunteer General Manager of MTMCA and MTM-U, founding member of MTMCA she has trained extensively with Oscar Wegner. PTR, WTCA, USPTA, USTA, GPTCA member, "Coach Lucy" currently coaches players in Southern California and trains coaches to become MTM-certified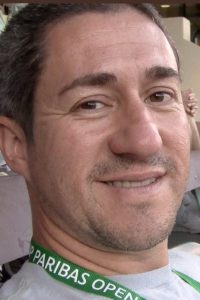 FERNANDO PEREIRA As a close friend and associate of Oscar Wegner through the years, Fernando witnessed first-hand as Oscar implemented MTM in Brazil in the 1980's. He subsequently won a Division 1 college tennis scholarship at Southern Mississippi, worked as a coaching assistant to Oscar and later earned his Masters Degree in Marketing Management. He is an original member of MTMCA and MTM Level IV Clinician/Tester. He has formerly served as a Board Member of the Brazilian Tennis Federation.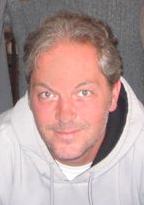 DANY VAN DER RIETEN Another founding member of MTMCA and Oscar's personal representative for the European Union Dany has received the highest degree of direct training from him to bring MTM to his students.  Dany also trains and certifies MTM coaches in Belgium, and is featured in the MTM-U Introduction To Coaching Course videos.  He is Co-Founder of Modern Tennis Europe.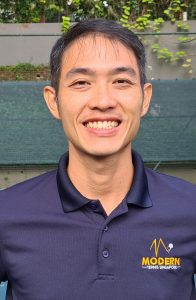 JOE LEE As Head Coach and Trainer for Modern Tennis Singapore MTM-certified Level IV Clinician/Tester Joe is a strict yet fun Professional Coach. He has 100% trust in Modern Tennis Methodology and is willing to share his knowledge with passionate coaches and players. Accredited under SportSG, Ministry Of Education Singapore, Professional Tennis Registry, Global Professional Tennis Coach Association and Modern Tennis Methodology Coaches Association.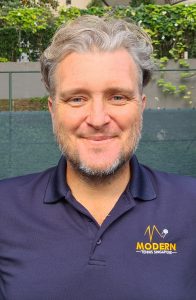 DAVID KRISTOFF Also an MTM-certified Level IV Clinician/Tester David holds the position of Coach and Consultant for Modern Tennis Singapore. He is a Professional Coach with over 20+ yrs experience teaching in Canada, USA, Mexico, Caribbean, Europe, and Asia. Certified by Tennis Canada, Peter Burwash International and Oscar Wegner, his coaching style combines modern techniques with play based-learning. He has lived in Singapore since 2015.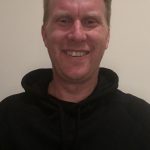 NICK JACQUES Nick, originally from Leicester, England, is a development coach who specializes in helping young children on a performance tennis pathway. He has worked in Talent Identification for both the LTA and Wimbledon, and was previously Head Coach of two High Performance academies in the UK. Nick has developed multiple national champions in both Europe and New Zealand, many who have achieved tennis scholarship's at major universities, and many who have also gone on to play on the world tour. Nick is an MTM Level IV Clinician/Tester.