MTM 4 Kids
Miracles with Kids that Parents can Produce Themselves
Oscar's MTM fits kids perfectly. It's simple, totally natural, and easy to learn. No complications: kids stand, walk, turn and run their own way. They are taught not to rush to stroke, and then brush the ball up and across for a prolonged feel.
According to Oscar, "finishing with the racquet over the shoulder, with the butt of the racquet pointing to where the ball just went promotes a smooth, efficient stroke and a marking memory, easy to repeat. Kids love to rally, and MTM teaches this at a slow ball speed within the first hour of instruction, making it easy to get the ball in the court all the time. Balance and control are intrinsic to MTM and people in general love control and ease."
Below are just a few of the many young players whose tennis development was influenced at an early age by Oscar.
We salute their accomplishments, derived in part from MTM, but especially from their own individual talent, unique ability and inherent feel for the ball.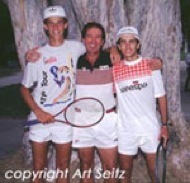 Guga Kuerten
Three-time French Open Champion and Number One in the World, 2000, Gustavo "Guga" Kuerten was coached by Oscar in Florianopolis, Brazil and the USA from a very young age until he completed the competition in the14 and under Orange Bowl. In his autobiography, Guga reminisces about his time spent training with Oscar, "He had a mantra to demonstrate what the state of mind of a player should be on the court, 'At one end anxiety, on the other passivity, amid them serenity. You have to play in serenity'. And, as Oscar had said to Borg, a legend who had heeded it, who was I to dispute what he said? Oscar spoke, I did. "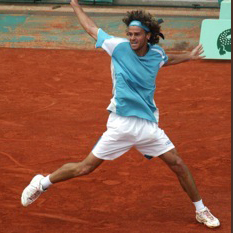 ---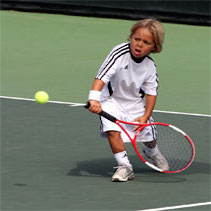 Jan Silva
From Jan Silva's father in 2005: Oscar, you asked if Jan benefitted from your teachings, and if so to what extent. As you know, he is 4 and he would sit up as a 1 year old and watch James Blake's matches at the Hamlet Cup. He would also watch and still does your video Play Like the Pros. Jan has strokes that Pro Tennis Players see and can't believe. He has the ability to watch someone hit a ball and then copy what they do. Jan spends several hours each day hitting against our sliding glass door as well as his clinics and lessons, but the biggest influence to date has been what you have given in your video tapes which let us know that he can be as good as any of the best in the world as long as he plays like them. Thank you, Oscar. Scott Silva. November, 2005. After receiving a great deal of attention for his precocious tennis acumen, Jan's family moved to France where he received other training. Returning to the United States Jan played both tennis basketball at Laguna Creek High School in Elk Grove, CA. Although his senior season of tennis was canceled because of the coronavirus pandemic, Jan posted a 41-2 career singles record in high school, playing at either No. 1 or 2 in each of those matches.
Update (2021):
Jan started college at Sacraments State and was in the Hornets' singles and doubles lineup in all 15 matches of the 2021 season, winning all of his 7 victories in straight sets.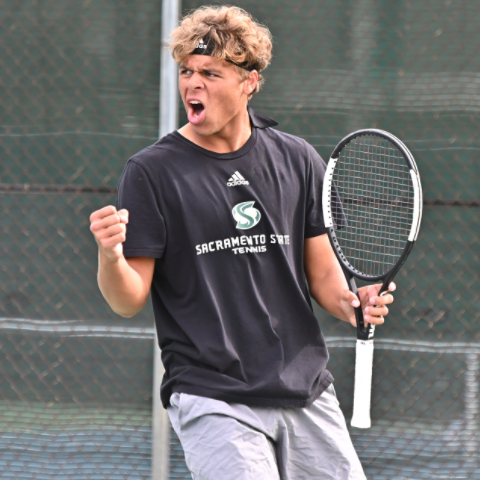 ---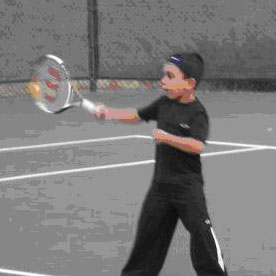 Noah Gampel
After sensing something wasn't right watching our children take lessons from different pros, I did some research and bought Oscar Wegner's DVDs. The improvement has been incredible. But the biggest gift MTM has given them is a love to play tennis that did not exist before. Now they always want to play. Yury Gampel, Calabasas, CA
Update (2021): Noah was ranked as high as the 49th-best national recruit and the 10th-best recruit from the state of California before signing with Cal (University Of California, Berkeley) as a Freshman for the 2020-21 Men's Tennis Season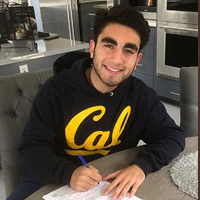 ---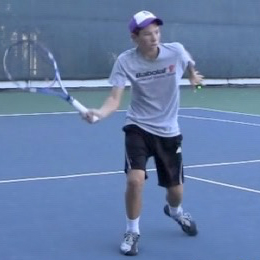 STRONG KIRCHHEIMER
Coached from a young age by his dad, MTM-certified Coach Bob Kirchheimer, Strong trained through the years with Oscar, achieving several milestones as a junior, including being rated as a blue chip recruit and No. 18 ranked U.S. player according to TennisRecruiting.net, No. 4 ranked player in the southern region and No. 1 player in N.C. Strong went on to play for Northwestern University, holding the all-time program record with 72 career doubles wins, posted a 17-7 record as Northwestern's No. 1 singles player, ranks second in NU history with a .754 career singles winning percentage, played at the USTA Championships, and represented the United States at the Master'U in France.
Update (2021): Strong is now playing on the ATP Tour.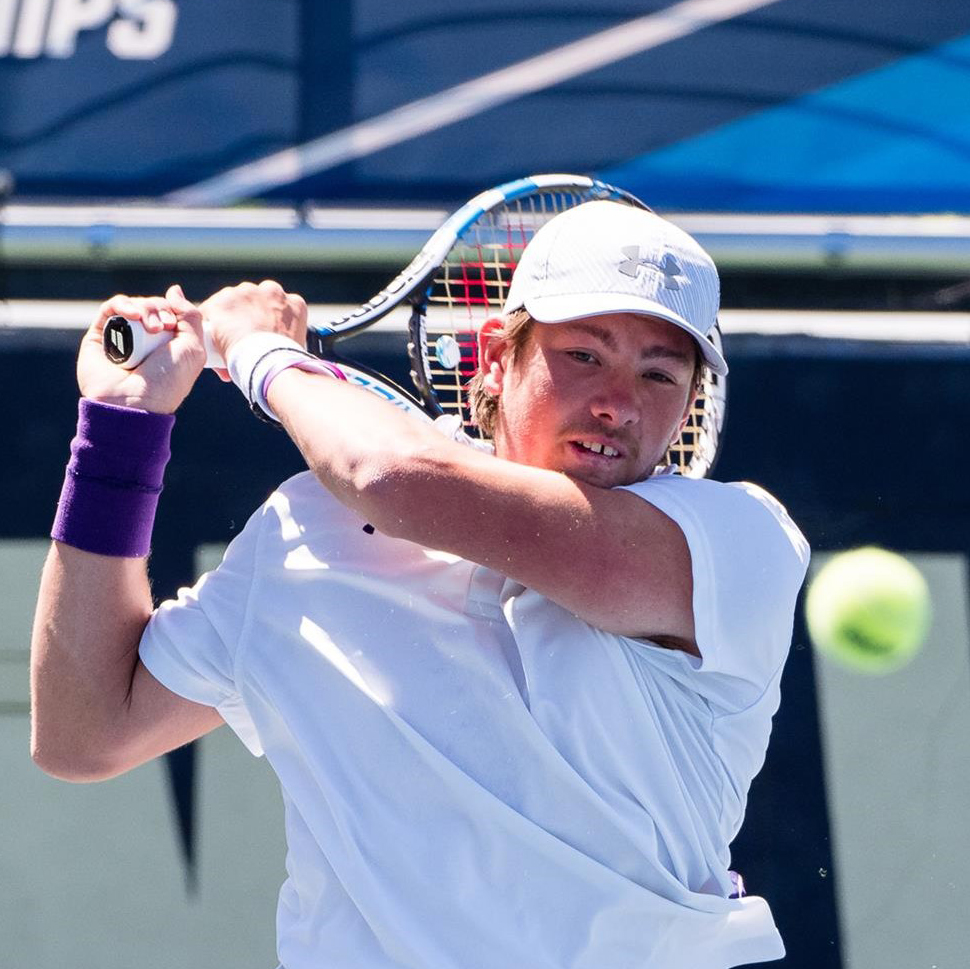 ---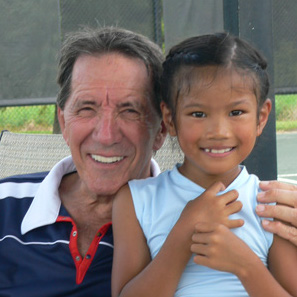 Charisma Nuqui
Charisma emerged as a prodigy featured on television in the UK. Her father purchased Oscar Wegner's DVDs and began teaching her with them under Oscar's supervision. From her father: Hi Oscar, I just wanted thank you again for giving me tips to help her progress. From Oscar: Charisma was 7 in my first visit to England, Her father taught her initially from my book and DVDs, and she almost never misses on groundstrokes. The length of her rallies is extraordinary.
Update (2021):
Working throughout her junior development years with her father, MTM-certified Coach Chris Nuqui, Charisma attended New Hall School, South Essex College, was two-time U18 Women's ISL Champion and now plays for Catawba College.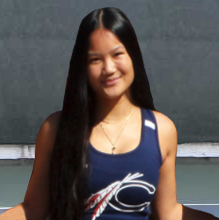 ---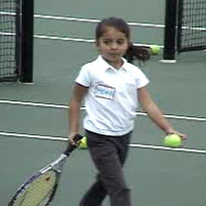 Miranda Ramirez
From Miranda Ramirez' father in 2005: Your tapes were the answer to our prayers. The simplicity of the techniques make it enjoyable for Miranda. She is only 5 1/2 years old and really enjoys tennis because she is successful at it, mainly because of your simple techniques to play like the pros. When we came back from seeing you in St. Louis, we tried the counting to 5 exercise, and we had AMAZING results. Miranda seemed more relaxed and patient. Overnight this 5 1/2 year old little frame started to hit with more control and consistency. Sincerely, Santiago Ramirez .
More news (May 15th, 2006):
Oscar, I wanted to give you some exciting news. Miranda entered her very first tournament this weekend, played 3 matches and came home with the first place trophy. She had to play someone who drove in from TN in the finals and came away with a 6-0, 6-0 win. The smile on her face throughout the weekend was priceless. She is already looking forward to getting back on the court and doing it again. Thanks for all of your help. Hope to see you soon again. Thank you, Santiago Ramirez
Update (2021):After playing 4 years at Syracuse University Miranda was a 2020 Weaver-James-Corrigan Postgraduate Scholarship Award winner and has opted to play a 5th year for Syracuse.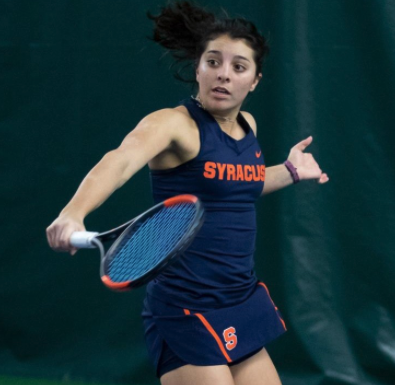 ---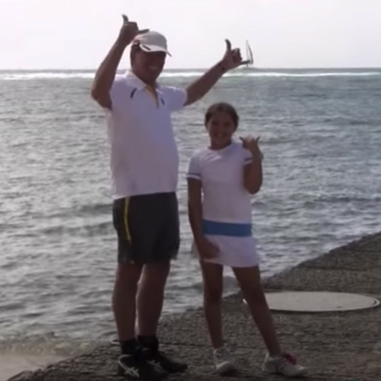 SCOUT MATHEWS
Oscar was invited by her mom, Karen, to work with a very talented young player named Scout Mathews in Hawaii. Scout went on to play in the finals in Ojai in girl's 14's and 16's, and competed on the National Clay Courts in 2018. According to TennisRecruiting.net, Scout was a top-50 five-star class of 2020 recruit, undefeated against every other five-star recruit she's faced that year.
Update (2021): Scout was accepted at Eastern Washington University for the 2020-21 season. She started out 2-0 in doubles, and was selected as the conference tennis Player of the Week (Week 12) after clinching the win against Idaho in EWU's first league match.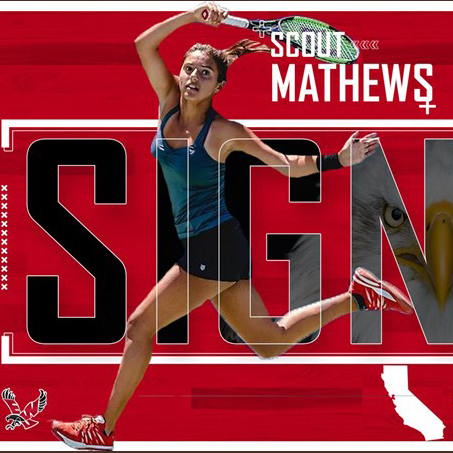 ---