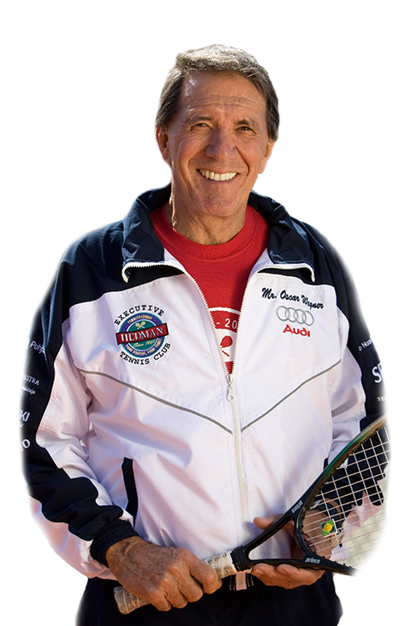 Oscar Wegner
World-renowned former tour player, coach, author, TV personality, tennis commentator and educator Oscar Wegner is now training coaches and players from beginner to top pro level both online and on-court in Clearwater, Florida.
Contact
Find out what has changed tennis around the world!
HOW MTM IS DIFFERENT
The ideal kinetic chain for tennis for a human body is rotational, not linear as commonly taught. Sudden changes of motion and direction create force. Bruce Lee discovered that for Martial Arts. Oscar Wegner did that for tennis. You'll learn to bend, to deflect, rather than plainly oppose, during contact, the ball's trajectory.
Tennis is also slower than it is thought to be. The ball loses, from baseline to baseline, due to air resistance, close to 60% of the speed. Thus the early preparation is more of a myth than true. You need to track the ball in front much longer than what is currently taught!
MTM STARTED A TENNIS REVOLUTION
Coaches around the world applied the same principles found in Oscar's teachings to their very young, and history has proven Oscar right. Over the years many of those students have become top players and coaches of their generations.
"Tennis in 2 hours", Oscar's 1989 first book, was immediately adopted by Russian coaches, a fact that Bud Collins noted in his first visit to Moscow in December 1990. Some Eastern European coaches rapidly copied the Russians. Belgrade coaches, according to Serbian coach Jasenko Palos, intently shared the only copy of Oscar's 1989 book they could find.
The 1992 edition, retitled "You Can Play Tennis in 2 Hours", with Bud Collins and Oscar on the cover, insisted that following certain principles makes tennis an easy sport in which to learn and excel. Oscar became recognized worldwide on TV and in print urging that everyone from children to adults learn to "Play Like the Pros".
A FEW EXAMPLES OF MTM'S INFLUENCE AND SUCCESS
Oscar worked with Gustavo "Guga" Kuerten throughout his early development, and thereafter in the capable hands of Larri Passos, Guga not only turned into a top athlete but also the winner of three French Open titles and became #1 in the world in 2000.
When invited by Gizele Miro's coach Romulo Destro, Oscar worked with the top Brazilian junior for just one week, and shortly thereafter she turned pro and went on to become #1 in Brazil and win the PanAmerican Games Gold Medal in singles.
Paradorn Srichaphan of Thailand was coached by his father, Chanachai, with Oscar's techniques and became the first men's singles player from Asia to be ranked in the top 10 of the ATP rankings.
With their father's guidance utilizing Oscar's techniques, Venus and Serena William grew to become world champions.
Roger Federer received Oscar's book and Master Strokes videos in April, 2005, and may have put some of Oscar's tenets to good use.
Spain, where Oscar worked with the Spanish Federation's High Performance Tennis School in Barcelona, became a tennis powerhouse. In Russia within a decade of receiving Oscar's techniques, numerous players rose to prominence. Latin America, prompted by Oscar's ESPN Spanish commentary and televised tips, developed a plethora of new tennis stars.
Today Oscar's legacy of teaching continues to produce tennis successes (see the section entitled MTM 4 Kids). Now, after 50+ years of developing his coaching method for players from beginners to the "Next-Gen" of Top Pros, Oscar says, "Tennis has a new future!" Read his books, watch his videos, and you'll be the judge!
"Wegner strips tennis instruction of all those accepted phrases and directions that only clutter your mind and confuse… I think you'll find it worthwhile to dump the past and join Oscar in your tennis future. In listening to him I've unlearned a few things myself that I long considered gospel…"Bud Collins, Boston Globe, NBC