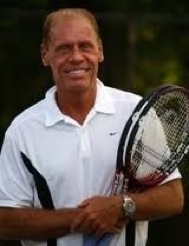 Ron Waite was a certified USPTR tennis instructor who took up the game of tennis at the age of 39. Frustrated with conventional tennis methods of instruction and the confusing data available on how to learn the game, Ron sought to sift fact from fiction. Over the years, Ron received USTA sectional ranking many times, successfully coached several NCAA Division III men's and women's tennis teams to post season competition, and competed in USTA National singles tournaments. 
In addition to MTM-U, Ron was an Honorary Member of Tennis Coaches Australia.
Ron trained at a number of tennis academies and with many of the game's leading instructors, including Oscar Wegner.  Ron referenced Oscar many times in his writings for The Tennis Server, and stated, "Oscar, I can honestly say that your inspiration and instruction have provided me with a basis for teaching tennis that actually works! ".
Besides his full-time work as Chair of the Department of Communications at Albertus Magnus College, Ron photographed ATP tour events for a variety of organizations and publications, published textbooks and screenplay material, and authored "Perfect Tennis – 10 Steps To A Much Better Game". 
Ron was also a member of the United States Tennis Wrtiters Association, and wrote for the webzine The Tennis Server from 1996 to 2018.  The name of his very popular 22-year-running column, TurboTennis, stemmed from his methods to decrease the amount of time it takes to learn and master the game of tennis.