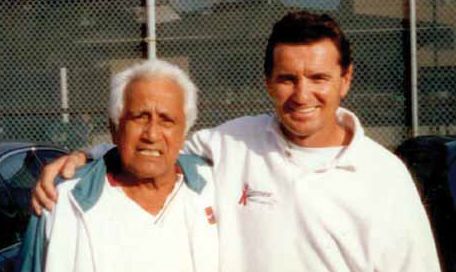 Raudel with tennis legend and friend Pancho Segura
Raudel has taken the world of pickleball world by storm, coaching at the Carlsbad Pickleball Club in San Juan Capistrano. Prior to this as Director of Racquet Sports at the Bermuda Dunes Racquet Club, Raudel was Owner of the Jackie Cooper Tennis Academy in Palm Desert following the untimely passing of his close friend and icon of tennis in the famed desert region. There Raudel maintained the spirit of a "home away from home" atmosphere that was a unique feature of the Jackie Cooper Tennis Academy, welcoming vacationers and seasonal tennis players to Bermuda Dunes.
Raudel is a former #1 ranked tennis player in Florida and toured professionally for seven years.  He has coached many world ranked players, many ranked juniors, and Florida ladies 3.5 state championship team.
Prior to taking ownership of the Jackie Cooper Tennis Academy Raudel coached in Bejing and was Manager of the Bobby Riggs Tennis Club in Encinitas, CA.
Growing up in Carlsbad, CA Raudel and his brother Martin (also a tour pro) started playing sports at the Boys and Girls Club, where he played all sports. At Carlsbad High School he held an all-league title in football and pole vaulting record. At Mira Costa College he was defensive MVP for 2 straight years and Most Valuable Lineman. He went on to earn acclaim as a national fitness champion, nationally ranked triathelete and tennis touring pro.
In addition to his career as a pro tennis player and coach, Raudel is also known as a tennis-specific fitness trainer. He has presented at seminars for the USTA and Florida Athletic Coaches Assoc. and the Boys and Girls Club of Carlsbad.
Says Raudel, "After many of Life's ups and downs I've learned that there are two kinds of people that walk the Earth. Givers and Takers. I'm the Giver. I'm the Teacher. I'm always learning and will always share my wisdom."