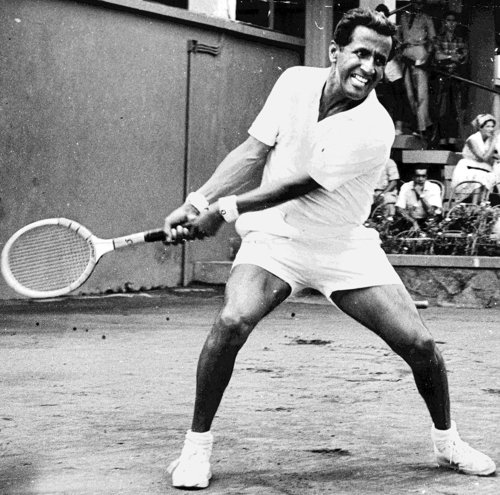 Pancho Segura

6/20/1921–11/18/2017

"One of the world's leading tennis players in the mid-20th century, died on Saturday at his home in Carlsbad, CA. He was 96."

New York Times 11/19/2017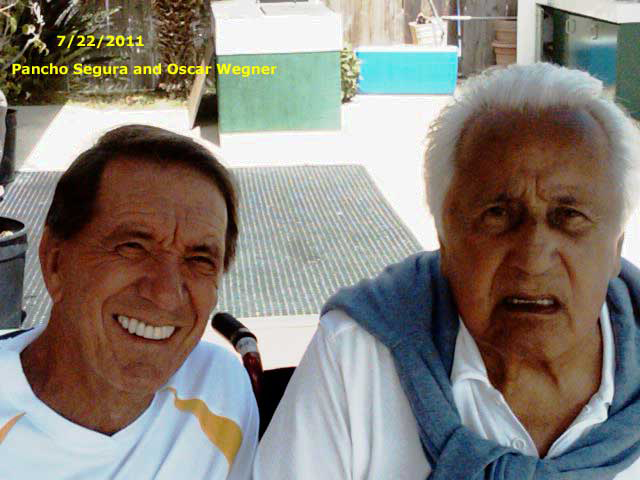 We are honored to include Pancho Segura among those acknowledged by MTM-U and thank him immensely for his contributions to the world of tennis. Says Oscar, "Special thanks to Pancho, who with knowledge and experience encouraged me to follow my course."  Following is his bio from the International Tennis Hall Of Fame:
Never at a loss to offer an opinion, de facto tennis historian Jack Kramer said that Francisco "Pancho" Segura possessed "the single greatest shot in the history of tennis," a lethal forehand that he hit with two hands. Video of Segura uncoiling the shot suggests that Kramer may be right. Segura would unleash his two-fisted forehand with almost manic intensity, drawing the racquet back past his hips and then extended fully through the ball and finishing with a clean follow through over his right shoulder. His forward momentum brought him into the court, making him a difficult opponent to face. Segura could drive balls from the baseline or use his athleticism to charge the net.
While speed, mobility, and agility were the hallmarks of his game, it was not a forgone conclusion that Segura would develop into a tennis champion. He was born and raised in Guayaquil, Ecuador, as one of seven children who wasn't blessed with the finer things in life. The Segura family was poor and young Pancho suffered from rickets, a calcium deficiency in the bones of children that causes them to soften and weaken. In some cases, rickets causes skeletal deformities, and Segura danced about the court on thin, bowed legs. Tennis was his only real athletic option – his legs wouldn't hold up under the stress of soccer – so Segura took to teaching himself the game. The ever-available neighborhood backboard became Segura's daily playing partner and by the time he turned 17, Segura had blossomed into Ecuador's finest player, winning tournaments in his native country and throughout Latin America.
Guayaquil is the largest and most populated city in Ecuador, but the port city isn't a puddle jump to Miami, Florida, it's a four hour flight covering nearly 2,000 miles. Despite the distance, news of the Latin American champion with the infectious smile, unorthodox two-handed forehand, and flimsy legs traveled quickly, catching the attention of the great U.S. player and future Hall of Famer Gardnar Mulloy, who was the head coach at the University of Miami. Mulloy offered Segura a scholarship and the 5-foot-6 hitting dynamo repaid the gesture by winning the NCAA Singles Championship three straight years (1943-45).
Following his collegiate days, the next logical progression for Segura was the amateur circuit, but that portion of his life didn't last long enough secure a bevy of major championships. In singles, his best finishers were four consecutive trips to the U.S. National semifinals (1942, 1943, 1944, 1945) and the third round at Wimbledon and the French Championships, both in 1946. He was a doubles finalist at French Championships in 1946 alongside Argentine Enrique Morea and the U.S. Nationals with Bill Talbert in 1944. In mixed doubles play, he was a finalist at the U.S. Nationals in 1943 with Pauline Betz, and in 1947 alongside Gussy Moran.
Segura wasn't void of a U.S. title, however, winning the 1944 U.S. Clay Court Championship over Talbert (6-3, 2-6, 7-5, 6-3) in Detroit, Michigan and the U.S. Indoor title in 1946 over Don McNeill (1-6, 6-3, 6-4, 7-5).
In 1947, Segura turned embarked on a 20-year professional career, and was not bashful about stating the reason: He was financially challenged and needed to earn a living from the game. Kramer says Segura became a much better professional than amateur because he improved his mind and learned how to play the game from a strategic perspective. The results did pay dividends. Segura won the U.S. Pro Singles three consecutive years (1950-52) on three different surfaces (the only player to achieve that feat) over Frank Kovacs and Pancho Gonzales. He was a finalist eight other times at the Wembley and U.S. Pro, and his 1955 U.S. Pro loss to Gonzales was extremely competitive and could have benefitted from the not-yet-invented tiebreak, 16-21, 21-19, 8-21, 22-20, 19-21. Segura also captured revenue-important U.S. Pro Doubles Championships three times (1948, 1955, 1958) with Kramer in 1948 and 1955 and Gonzales in 1958.  Segura was 41-years-old when he played his last U.S. Pro in 1962 and he played his last US Open singles match in 1970 at Forest Hills, falling in the second round to Argentine Modesto Vazquez in five back-and-forth sets.
In 1962 Segura settled in Southern California, becoming the tennis director at the Beverly Hills Tennis Club, launching a successful career as a teaching pro and coach. One of his prized students was a star pupil from East St. Louis, Illinois, future Hall of Famer Jimmy Connors. In 1970 he switched locations, moving to the LaCosta Resort and Spa in San Diego.
In 1991, more than 50 years since coming to the United States to play college tennis, Segura became an American citizen. "I am a U.S. citizen first and a tennis player second," Segura said.  His autobiography, Little Pancho: The Life of Tennis Legend Pancho Segura, was published in May 2009.