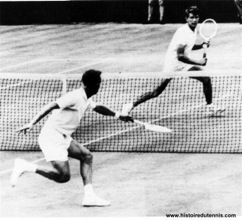 Martin "Marty" Mulligan is a former tennis player from Australia who enjoyed a career defined by many championship titles as well as the distinction of being the first non-Italian to receive the Golden Racquet Award by the Italian Tennis Federation.  In 1962 he played in the Wimbledon Final, which ended in defeat against fellow countryman, Rod Laver (shown above).  With 72 career titles,  Marty is ranked 19th among the top 30 players with most singles titles in tennis history.
Marty has been head of Global Tennis Marketing at Fila since 1973 and resides in San Francisco, CA.
Oscar and Marty became friends while traveling and playing together on the international tennis circuit, a friendship that has lasted 50 years.  When asked to describe Oscar as a person and a coach Marty replies, "He is a very nice, gentle, friendly person with a great passion for tennis and to help people develop their games."
CAREER HIGHLIGHTS
Won 1958 Australian Open Junior singles and doubles.
Won 1960 Australian Hardcourt singles and doubles.
Won 1963 German Open.
Won 1963, 65, 67 Italian Open.
Won 1966, 67 Barcelona.
Won 1966, 67 Bastad and Kitzbuhel.
Won 1970 Japan Championships.
Ranked in top ten in the world 1962, 63, 65, 67.
Won 1960 U.S. Claycourts doubles (w/Hewitt).
Won 1962 German Doubles (w/Hewitt).
Member 1968 Italian Davis Cup team.
Ranked No. 1 in Italy, 1968-71.
Coach of Italian Davis Cup team for ten years.