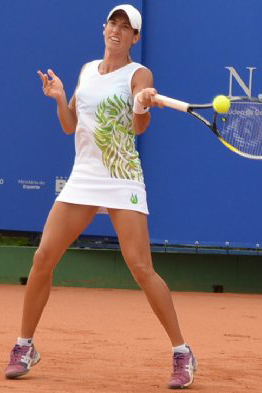 Maria Fernanda Alves was introduced to Oscar Wegner's coaching style at 4 years old in the city of Florianópolis. Throughout her career she has been coached by her father, Carlos Alves.  After winning several junior titles she played his first WTA tournament for in 1998. She competed in multiple qualifying rounds in singles and doubles at Wimbledon, the U.S. Open, French Open and Australian Open, winning 21 singles titles and 57 doubles titles during her professional career.
"Nanda" also competed in the 2003 Pan American Games as well as the German Bundesliga and Brazilian Intercity Team Annual Tournaments. She received the Brazilian Tennis Federation honor for Best Women's Player in 2004, 2005 and 2007, as well as the Heart Award during at the 2010 Federation Cup.
In October 2002 Nanda became number 1 in Brazil. She also played Fed Cup for Brazil and reached a WTA career high of 132 in singles and 109 in doubles.
Nanda has served as the Associate Head Coach at the Nanda Tennis Camp Program in Miami since 2009. She was Assistant Coach at Texas A&M in 2015 -16 then Assistant Coach for women's tennis at UCSB from 2016 -18. She is currently Assistant Coach at Barry University in Miami.