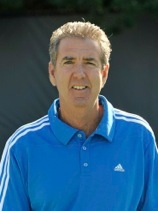 John and his sister Tracy Austin were the first brother-sister team to win the Wimbledon championship title in 1980 in Mixed Doubles. Born into a family of five siblings, tennis is in the Austin DNA, as four of them competed at Wimbledon. Austin climbed the international rankings to a Top 40 world ranking in six years competing on the ATP Tour. Among his wins were victories over # 1-ranked John McEnroe, former French Open champion Yannick Noah, Andres Gomes, Wojtek Fibak, and twins Tim and Tom Gullikson. He was also selected three times as an alternate/practice partner for the U.S. Davis Cup team.
Prior to entering the professional ranks, Austin was a member of the victorious 1976 UCLA NCAA championship team and a 1978 NCAA doubles champion. He reached the NCAA doubles final in 1977. Upon retiring from the professional tour, Austin has been a teaching pro, working with players such as Pete Sampras, Michael Chang, Jim Grabb, Chuck Adams and Alexandra Stevenson.
Austin has held Director of Tennis positions at several prestigious clubs and facilities, including the La Quinta Resort and Club in La Quinta, CA.; PGA West where the club was awarded the USTA Southern California's Facility of the Year in 1996, Desert Highlands in Scottsdale, AZ, has served as Manager of Operations for the City of Surprise, AZ, Director of Tennis at the Fairmont Scottsdale Princess Resort, the Scottsdale Ranch Park and Tennis Center and the Richmond County Country Club in New York City. He is currently Director of Tennis at the Mulholland Tennis Club in Los Angeles.
John's brothers Jeff, Doug and sisters, Pam and Tracy are also former tennis professionals John's wife, Karen, is a teacher. He hs two sons, Christopher and Reed.
TOURING PROFESSIONAL
1978-1984
CAREER WINS
Defeated #1 John McEnroe, Yannick Noah, Andres Gomez,
Wojtek Fibak, Tim and Tom Gullickson, Tim Wilkison
TOURNAMENT HIGHLIGHTS           
2002 Ranked #1 in the US Mens 35 and over doubles
2002 USTA Ntl Men's 35 Hard court doubles champion
1998 USTA Ntl Men's 40 Grass Court Singles Champion
1997 USTA Ntl Men's 40 Grass Court Singles Champion
1997 USTA Ntl Men's 40 Indoor Singles Champion
1997 USTA Ntl Men's 40 No. 1 Ranking
Member of the 1989 First Place
"New Jersey Stars Professional Team Tennis" 
1981 Wimbledon Mixed Doubles Finalist*
1980 Wimbledon Mixed Doubles Champion*
1978 NCAA Doubles Champion
1977 NCAA Doubles Finalist
US Davis Cup team-3 time alternate/practice partner
7 Career titles won
6 Career finalist appearances
*(with sister, Tracy Austin)