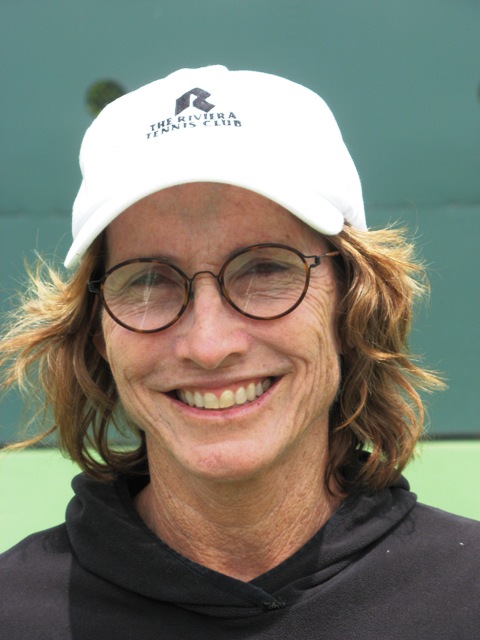 Born in Miami, JoAnne grew up in Naples. She comes from a tennis family; both of her parents play, and her brother, Steve and two sisters, Lee and Lynn, all played in college. Her first formal tennis instruction came at age six. When JoAnne turned twelve, her father drove her up to Cape Coral to play in a junior tournaent . Local coach Tommy Boys approached Mr. Russell and told him his daughter could be a pro (Boys remained JoAnne's primary coach until he retired in 1980).
From 1973-1988 JoAnne earned singles wins over Navratilova, King, Shriver, and Casals, a 3-1 record over Virginia Wade while achieving her greatest success in doubles. She paired with Bilie Jean King on the 1977 Wightman Cup Championship team and made it to the finals of the US Open Mixed Doubles in 1981 with Steve Denton. All in all, JoAnne finished her tour doubles career with a 218-175 record, her best results coming at Wimbledon (In 1982 she made it to the quarterfinals in all three events: singles, doubles, and mixed.)
"Her personality is Big. Funny. Curious. Kind," says former tour player and sports broadcaster Mary Carillo of her long time friend and colleague. "When I first got to know her and watched her play I was taken by her attacking style and very obvious competitive nature."
After her retirement from the tour JoAnne was a tennis commentator for ESPN, USA, and NBC Sports. She made her broadcasting debut in 1984, working with Bud Collins and Dick Enberg at NBC. She also worked with ESPN (where she did tennis commentary with Oscar Wegner), ABC, SportsChannel, USA Network, Turner Broadcasting and STAR TV.
JoAnne has coached at the University of Florida (where she helped lead the Gator women's tennis team to the 1998 NCAA Championship), at The University of Illinois, and as a touring pro with the Kingsmill Resort in Virginia. Shel has coached in the USTA National Team Program and has hosted numerous tennis clinics all across the nation. Russell is a USTA certified high-performance coach and has also received highest certification by the USPTR. In addition, she is on the Wilson Advisory Staff and is a member of the Wilson Speakers Bureau.
As a competitor, JoAnne earned an NCAA doubles title in 1975 with partner Donna Stockton as a member of the team at Trinity University in San Antonio, Texas. Their Trinity team won national championships in 1973 and 1975, sandwiching a 1974 second-place finish. She played from 1975-88 on the Women's Tennis Association (WTA) tour. One of her most impressive accomplishments was winning the Wimbledon doubles championship title in 1977 with Helen Gourlay. JoAnne was ranked in the U.S. Women's top 10 from 1976-78 and held the world No. 1 doubles ranking in 1978 with Rosie Casals. In addition, she achieved a world singles ranking as high as No. 11 in 1977.
Upon leaving the WTA tour, JoAnne continued her career on the senior doubles tour, where she won both the U.S. Open and Wimbledon titles in 1993 and the U.S. Open championship once again in 2002. She also competed at the Open in September of 2003 and 2004, and in USTA league tennis, winning the 5.0 National Champioinships in 2010.