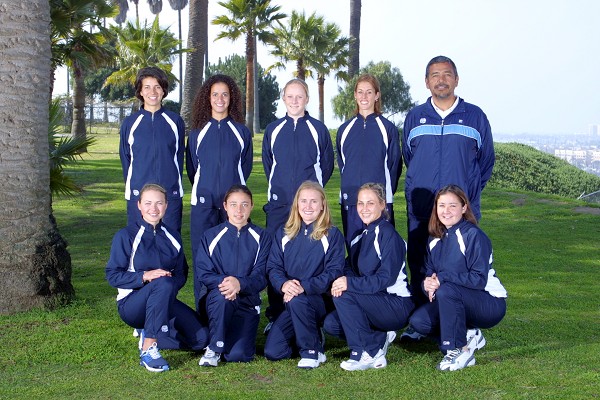 Jamie Sanchez served as Head Coach for Men's & Women's Tennis at Marymount California University in Palos Verdes, CA, after spending 40 seasons as Head Coach of the Loyola Marymount women's tennis program. Sanchez, the LMU program's sole originator, began coaching the team in 1975, earning participation in the NCAA Playoffs and West Coast Conference Championship.
"Jamie is like a father to me," remarked on of his players. "I will never forget the times we had together both on and off the court. He will always be a friend of mine." Sanchez's former players are not the only ones who have noticed what he contributed to the LMU community. He is in the LMU Hall Of Fame.
According to the University's Director of Athletics Jamie has tremendously impacted the school not only through his role with women's tennis, but through all of LMU athletics. "If you look at Jamie's career here, he has had about a half a dozen different jobs," he said. "The first women's scholarship that was given out here was for a women's tennis player, so his program was really at the forefront of supporting women's athletes at LMU. He is an icon and a legend."  (see video below)
In 2006 the sixth court at the LMU Tennis Center received a new name as part of the celebratory weekend for the 30th anniversary of women's tennis. The court was appropriately named the Jamie Sanchez Court, after the University's longtime Head Coach and Hall of Famer.
Jamie was named the West Coast Conference Coach of the Year for the second straight year in 2002, and in 2006 he earned his third WCC Coach of the Year honor. In his first 31 years at the helm of the Lions' program, Sanchez's teams never finished lower than fourth in the WCC.
In November of 2004, Sanchez was honored with the US Tennis Association/Intercollegiate Tennis Association Campus Recreation Award as the sectional winner for all of Southern California.
Sanchez, who developed and supervised the original LMU fitness center and club sports program, also worked with the current Campus Recreation department to direct LMU Tennis 101, where a recreational class open to all members of LMU's Burns Recreation Center promoted fitness and interest in the sport of tennis.
Jamie was Director of the LMU Tennis Academy, which offered small classes devoted to personalized instruction and one-on-one private instruction for every level of tennis player, from those picking up a racket for the first time to seasoned veterans.
As the Southern California sectional winner, Sanchez advanced to the national finalist pool of nine. Through the years, Sanchez has had four players earn LMU Athlete of the Year honors, 34 players earn All-WCC honors as singles players and 16 doubles teams earn all-conference accolades. In 2006, a record-equalling six Lions received All-WCC recognition, eight players have earned Academic All-WCC honors since 1996 and 40 National Scholar-Athlete selections since 1990.
Sanchez has been a student-athlete, coach and administrator at Loyola Marymount for over 40 years. He earned eight varsity letters in tennis and football at LMU from 1969 to 1974. He graduated from LMU in 1975 with a bachelor's degree in English. In February of 1993, Sanchez was inducted into the Loyola Marymount Athletics Hall of Fame. He became a two-time inductee in 2003 when he was inducted again with the 1969 Club National Championship football team.
Sanchez has served in many different capacities throughout his tenure, including coaching the men's tennis team for 21 seasons and posted 211 Division I victories, assistant coach for both the football and men's soccer teams, served as the head athletic trainer and equipment manager and the NCAA Division I Chair of the West Region.
Sanchez also served as the director of intramurals for 14 years.  His work as a liaison to the NCAA on compliance issues led the department to add a position dedicated to that work.
In addition to being an MTM Certified Profiessional, Sanchez has been a member of the United States Tennis Association (USTA) since 1968, and a member of the United States Professional Tennis Registry (USPTR) since 1987.
In addition to his duties at LMU, Sanchez has served as the Head Tennis Professional at the El Segundo Recreation Center. He has competed in regional tournaments in the open division.
Sanchez currently resides in El Segundo, Calif. with his wife, Tami. He has two daughters, Erin and Gabriella. Erin joined the Lions' tennis program in 2001 and played four seasons for her father and the Lions.