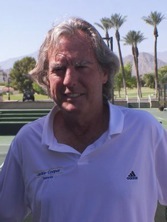 JACKIE COOPER: 1944-2013
"He could play it, and he could teach it"
John B. "Jackie" Cooper passed away peacefully, surrounded by loved ones on May 23, 2013 in Rancho Mirage, California. He was loved by many for his charisma, kind and gentle spirit, and optimistic outlook on life. Jackie made his mark in the world of tennis–as a player, coach, leader, and friend.
MTMCA lost a dear friend in May, 2013. Jackie was born and raised in Louisville, Kentucky.  In 1957 Charlie Pasarell traveled to Kentucky to play in the 13 and under Junior Tournament at the Louisville Boat Club. Jackie played in that tournament as well, and Pasarell ended up staying at the Cooper house. The two have remained friends ever since.
Jackie went on to become National High School Champion and won the Kalamazoo Doubles division in 1962. Soon thereafter the USTA put him on the Junior Davis Cup team where he played at Forest Hills.
Tennis paid Jackie's way through college. While his friend Pasarell went to UCLA, he went to Western Kentucky. After college he began teaching tennis at the Louisville Boat Club. Subsequently he was able to put together a group of investors who built the Louisville Tennis Club with 12 indoor and 14 outdoor courts. Pasarell came to the Grand Opening to play an exhibition and must have been impressed with his friend's abilities, because in 1978 he asked him to join him in the desert and become Tennis Director at La Quinta Resort.
Jackie stayed at La Quinta Resort from 1978 until 1995. During that time he was able to help Charlie Pasarell get the Indian Wells tournament off the ground. When Pasarell and fellow MTM Honorary Member Ray Moore finished building the Indian Wells Tennis Garden, they asked Jackie to come back and work for them as their Head Pro. He did so from 2000 until 2005.
Subsequently it was Cooper's friend Lorne Kuhle, ex-sidekick of Bobby Riggs and current owner of the Bobby Riggs Tennis Club in North San Diego, who discovered the opportunity to improve and run the Palm Desert Country Club's tennis operations (the tennis courts at the Palm Desert Country Club were originally owned by American tennis legend and International Tennis Hall of Famer, Alice Marble).
In 2009, Kuhle turned the management of the club over to Cooper who was able to form the Jackie Cooper Tennis Club with the mission to "provide tennis players and fitness lovers with a friendly and relaxed home away from home." As Founder and Head Pro Jackie coached kids and adults including rising star young Carson Braunstein and WTA player and longtime student, Coco Vandeweghe. Today the club is managed by fellow MTM Honorary Member Raudel Barba.