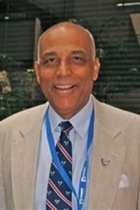 Henry Talbert Jr.

9/19/1940 – 1/12/2014

The tennis world lost a unique and very extraordinary individual when Henry Talbert passed away at his Pacific Palisades home on the morning of January 12th. Having dealt with a myriad of health issues for a lengthy period of time, Talbert died peacefully, surrounded by his family.
Henry Talbert, a Southern California native, became involved in tennis as a youngster, and never looked back.  He attended local schools, and graduated with a BA in Political Science and a Masters in Government from UCLA.
Following college, he proudly served his country as an Army Captain in Vietnam and moved on to the National Urban League, where he served as the Director of Veterans Affairs.
In 1974, he began his long career with the USTA.
He started in the New York City offices as Tennis Programming Director, overseeing many aspects of the USTA Organization. In 1990, he moved to the Princeton office, where much of the focus was on recreation programming and research.  In 1993, he moved to the White Plains office where he supervised the USTA National recreation program staff. It was in New York that Henry and Oscar Wegner became friends.
At the national office Mr. Talbert was in charge of staff and national committees for: USTA Schools Program, USTA Adult Leagues, the National Junior Tennis League, Senior Teams, Community organization grants-giving and Teacher Training Workshops.
In 1997, Bill Rombeau lured him back to his west coast roots to step into the Executive Director position at the SCTA.  He understood the professional game, the recreational programs, junior, adult and senior competition, junior and adult Leagues, officiating – everything that goes to make up the inner workings of a USTA Section.
Over the years, Henry held many prominent community positions, built tennis organizations for recreational players at the local level, and received many awards for his activities, including the coveted Educational Merit Award from the International Tennis Hall of Fame.  In 2013 Henry received the Gussy Moran Humanitarian Award.
Talbert, whose name is synonymous with class and implementing the USTA way, ended his stay after sixteen years as the Executive Director of the SCTA, when he opted to retire in 2013.