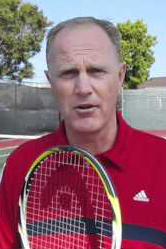 Honorary Member of MTM-U Hans Römer was born and raised in the Netherlands and brings a wealth of experience, enthusiasm and energy to tennis. He has been active as a Tennis Professional at the Coto de Caza Golf & Racquet Club,   Portland Country Club and the Monterey Bay Racquet Club, but also coached NCAA, High School and USTA Teams and is now at the Foreside Fitness and Tennis in Falmouth, Maine. During the winter months he conducts his own TENNIS207 programs in Maine and in the summer he is active as Director of Tennis at the prestigious The Dunes Club in Narragansett, Rhode Island overseeing the entire tennis program.
With a USPTA Master Professional status, a PTR Professional 5A rating and a Physical Education degree from the prestigious CIOS Sport College in The Netherlands, Hans still believes he is not done learning yet. Previously he has served on the Board of Directors for USPTA New England and the USTA New England Collegiate Committee. Additionally, he has been a frequent speaker at many Conventions, including the USPTA World Conference and the US Open.
As a player he obtained several National and Regional rankings, and captured the 2010 Sony Ericsson Media Championship in Miami, FL. In 2012 he earned the USPTA NorCal "Pro of the Year" Award and he has been featured on the Tennis Channel hosting 30-minute Instructional Shows. Hans, his wife Kristin and their yellow lab Kip, reside in Yarmouth, ME.
About Oscar Hans has this to say, "Coaching tennis is a passion that many of us share. Many styles, and theories, have been tested and have evolved tremendously over the last few decades. However, if it wasn't for Oscar Wegner's influence and wisdom we would still be in the dark ages. His clear, intelligent, yet simple approach has helped thousands of tennis players unlock their true athletic potential. Additionally, Oscar has lead the way for hundreds of other coaches around the World, including myself. Proud to call him my friend!"
Offices / Awards
USPTA New England, SoCal and NorCal – Board of Directors        
2013 USPTA NorCal "Pro of the Year"
USTA NorCal Coaches Commission
2013 USTA NorCal Aces Award
Maine Tennis Association – Board of Directors
2007 USPTA New England Reg. "Pro of the Year"
USTA New England Collegiate Committee
2006 & 2003 USPTA Top 10 Career Development
VNT Dutch Coaches Association – Education Commission
2006 USPTA New England 45's "Player of the Year"