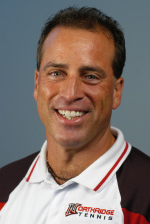 WEBSITE
CSUN
LOCATION
Northridge, California
A 4-time Coach Of The Year, Gary Victor completed his 24th season as the head coach of the CSUN Women's Tennis team in 2021. He has followed the tennis teaching methodology of Oscar Wegner over the years and first worked with Oscar in 2007 during an MTM pro clinic at CSUN.
As a South Florida native, Gary grew up in Coral Gables. During his collegiate years, Gary was a four-year starter at Rutgers University in New Brunswick, N.J., playing at the No. 1 singles position during the 1989 and 1990 seasons. During those years, he defeated five All-Americans and reached the Atlantic 10 Conference singles finals. He was the Most Valuable Player for the Scarlet Knights in 1989 and '90 and was also a two-time team captain.
Gary graduated with a bachelor of arts degree in journalism and mass media from Rutgers in 1991 and was on the Dean's List in 1988 and '91. After graduation, Gary worked as a producer of the American Gladiators and Gladiators 2000 television series.
In the fall of 2008, Gary teamed with CSUN Assistant Coach Zbynek Mlynarik to capture the USPTA International Doubles Championship.
Gary has been named USPTA California College Coach of the Year 3 times, in 1999, 2003 and 2011, and was named Big Sky Coach of the Year in 2001 after the Matadors (22-9) won the Big Sky Conference Championship and advanced to the NCAA Tournament for the first time in school history. He earned a degree as a specialist in the USTA's High Performance Coaching Program in 2001. He coached the Southern California 12's Zonals Champions in 2005 and has also served as Head Coach of the San Fernando Valley Competition Training Center Team, winning the team championship in the 2009 Southern California CTC Team Cup. The title was the San Fernando Valley's first in the history of the event. Also in 2009 Gary was named Chair of the Western Region ITA Coaches' Committee, an appointment which includes handling regional rankings, voting on All-American candidates and representing the region during the NCAA Tournament selection process.
Gary continues to inspire youth from the grassroots level through to Division 1 collegiate tennis. He and his wife Shirley have two children, Emma and Kyra, and reside in Thousand Oaks, CA.