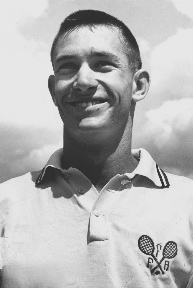 Frank Arthur Froehling III
19 May 1942 – 23 January 2020
Frank was a former ATP touring pro who ranked as high as world #6 in 1963. He reached the finals at the US Championships, the semis at the French Open and was part of the US Davis Cup winning team.
For over 40 years Frank worked as a tennis court designer and builder.
Frank designed and built multiple major tennis complexes including the FTA Tennis Center in Daytona Beach (24 hydrocourts) and the Village of Wellington's new Tennis Center (21 hydrocourts).
Frank worked with his son Sean Froehling in Stuart, FL.
Frank passed away on January 23, 2020 at his son's home, with his family — including his wife, Elizabeth — by his bedside, in Jensen Beach, Florida. First diagnosed with chronic lymphatic leukemia in 2000 and given one year to live in 2010, he received treatment at the University of Miami Hospital's Sylvester Comprehensive Cancer Center.