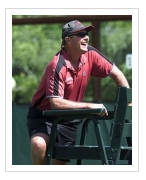 With credits too long to mention, MTMCA is proud to include Dick Gould as an Honorary Member.  Below is a brief description of his illustrious career. 
Dick was twice named the Intercollegiate Tennis Association-Wilson "Coach of the Decade," first for the 1980s and subsequently for the 1990s. He has also been named to multiple halls of fame, including the Intercollegiate Tennis Hall of Fame in 2006, the Stanford University Athletic Hall of Fame in 1994, the Bay Area Sports Hall of Fame in 2006, the San Jose Sports Authority Hall of Fame in 2008, the Ventura County Athletic Hall of Fame in 1990, and the Northern California Tennis Hall of Fame in 1992. The International Tennis Hall of Fame awarded its Tennis Educational Merit Award to Gould in 1982.
Dick is also the author of the tennis instructional book, "Tennis Anyone?", one of the most popular tennis guides ever published.
HIGHLIGHTS
The John L. Hinds Director of Tennis – 8 years (2005-present)
Stanford men's tennis head coach – 38 years (1966-2004)
winningest coach in Stanford men's tennis history
(776-148 for a winning percentage of .840)
17 NCAA Team Championships
(89-10 in NCAA Tournament competition since format change In 1977)
(Stanford reached 17 of these NCAA team finals and won 15)
(For 35 years, every four-year member earned at least one NCAA team championship ring)
10 NCAA singles champions
(5 others were runner-ups, 8 others have reached the semifinals)
7 NCAA doubles championship teams
(8 other teams have reached the finals)
50 All Americans
College coach of 9 players who reached top 15 in ATP world singles rankings and 14 players who reached top 10 in ATP world doubles rankings (7 attained a No. 1 world doubles ranking)
(1982 Wimbledon: 8 former Stanford players reached at least the round of 32)
(1983 Wimbledon: 4 former Stanford players reached at least the quarterfinals)
College coach of 16 Davis Cup Team members
College coach of 13 different Grand Slam champions (singles, doubles, mixed)
College coach of 8 Olympians
Dick's wife, Anne, was the Women's Tennis Coach at Stanford and led the women's team to an NCAA team championship in 1978 – the first NCAA championship in any women's sport for Stanford.
In 2004, Dick stepped down as the head tennis coach, but he has remained active at Stanford since 2005 as the John L. Hinds Director of Tennis.  Dick Gould's Stanford Tennis School is open to Juniors, Adults and Advanced players.  Dick, along with his wife, Anne, founded and direct this renowned adult tennis camp.