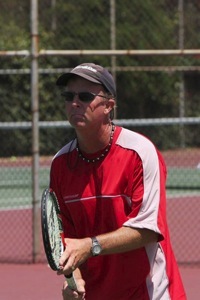 Of Modern Tennis Methodology David W. Smith says, "I feel that Oscar's work is important."
Diverse and successful, Dave has been involved in the tennis industry for over 40 years. He has been a USPTA Elite P-1 teaching professionally for over 15 years and has spoken at numerous USPTA divisional and world conventions. He has been awarded "Speaker of the Year" for both Southern California and Intermountain USPTA divisions. He has also been a Keynote speaker for The National Honor Society, The National Dentist Tennis Player's Association, and numerous tennis clubs, book clubs and schools.
As a writer, Smith has penned two highly acclaimed tennis books, "Coaching Mastery" and "Tennis Mastery". In addition, he served as the Senior Editor for the long-time highly-rated web site, TennisOne.com and has written over 300 articles that have appeared in ADDvantage Magazine, Tennis & Coach, (Belgium), and a host of tennis web sites.
In addition to written publications, David as produced many DVD's and on-line teaching programs.
Dave has been one of the most successful high school tennis coaches in the US, developing top teams and highly-ranked individuals in California, Arizona, and Utah. He has a team win-loss record of over 1000 wins against fewer than 25 losses. His teams have won numerous state and region titles; over 25 Region championships and 6 state championships or runner-up finishes. In 2019, after two consecutive state runner-up finishes in Utah, his girls took home the top honors, winning the state by the largest margin in the last six years.
Dave has been a tennis club head professional, director, academy owner, and general manager of several nationally recognized resorts and clubs including TennisLand in Anaheim, California, the Wigwam Resort in Arizona, the Green Valley Spa and Tennis Resort in Utah, and the Summit Athletic Club in Utah.
Growing tennis has been a passion for Smith. He has conducted group lessons with over 70 players in one clinic, directed large tennis events such as the Green Valley Marathon Tennis Tournament, the "Celebrity Classic" tennis camp, the Huntington Beach Open tennis tournament, and the Stephen Wade Invitational events in Utah. His no-cut tennis program attracts on average over 45 players to his high school girls and boys teams, and he has built tennis dynasties in all three states he has coached in.
In 2019, Dave was inducted into the National High School Coaches Hall of Fame.
David Smith is also the creator and author of the popular Disney Mysteries, "Hidden Mickey" as well as 7 other published books including "The Power of Passion" and "The Midnight Zone". He owns Synergy Books Publishing and represents over 40 authors and 60 different titles.
In addition to tennis and writing, Smith is a professional musician who plays bass and guitar in various bands. He also is a professional magician and has used magic to teach, entertain, and inspire both players and those who train or teach tennis. He is the three-time defending World Senior Games Doubles champion in the 50 – 60 age groups, and ranked number one in Utah the last two years in doubles.
Dave's wife is Dr. Kerri Smith, a Pediatrician. He has a daughter, Kyla, who is one of the top-ranked female golfers in Utah and plays for the Division 1 college, Southern Utah University. Kyla reached a world-ranking in 2019 in Golf She is also a skilled tennis player and has been featured in many tennis articles and videos. Dave also has a 17-year-old son who is into exotic cars and racing.