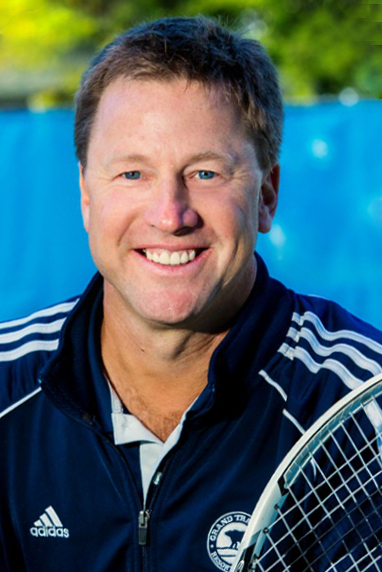 Chris "Mick" Michalowski has been the Director of Tennis at Grand Traverse Resort and Spa since 1988.  He oversees the Resort's tennis instruction, leagues, and tournament programs.  
Mick attended Ferris State University (FSU) from 1986 to 1988 where he majored in Marketing/Professional Tennis Management.  While at FSU, as a member of the Men's Tennis Team, he was named the 1988 Professional Tennis Management Student of the Year.  During the summers of 1990 through 1994, Mick was also the Director of Tennis at the Country Club of Detroit, in Grosse Pointe Farms, Mich.  
In 1995, Mick was named USPTA Midwest Tester of the Year, administering the USPTA test in the Midwest to players interested in becoming certified teaching professionals.  In 2003 and 2005 Mick was awarded the State of Michigan USPTA Tennis Professional of the Year. In 2006 Mick was awarded: The Midwest Junior Team Tennis Coordinator of the Year Award, the USPTA National Star Award and the USTA/USPTA National Community Service Award for all of his work within the community. He was also awarded the Midwest "Cap Leighton" Tennis Professional of the Year and the Northern Michigan tennis Volunteer of the Year award. He is currently on the Michigan USPTA Board of tennis teaching professionals and is a member of the USTA's Michigan Coaching Commission for 10 and under players. In 2011, Mick received certification in the USTA's High Performance Coaching Program and is certified as a specialist in competitive player development. 
Mick is the Director of the new Grand Traverse Team Tennis and Sports Academy in the summer, encompassing a variety of sports for young athletes. About coaching Mick asks, "Do I consider myself an expert?  The industry has said yes, but it is not that simple because tennis has changed over time and keeps advancing in exciting ways.  I feel that it is important for teaching professionals, like myself, to stay in tune with sport science, new trends and teaching techniques, technology  and new ways of teaching the game so that I can stay on top of "my game."