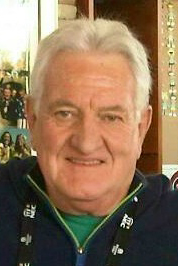 Bob Shafer has enjoyed 40-plus years in the tennis industry. Lake Forest resident Shafer says, "I've been lucky because my life in tennis as a career has been my vocation, and not just my avocation. I've enjoyed it all, especially all the great people I've met in the game over the years." Bob has long been an enthusiastic supporter of Oscar Wegner's contribution to the sport they both love so much.
Shafer started working for Wilson Sporting Goods back in 1971 and spent 32 years with the company. He then worked for the Active Network as a consultant for two years then eight years full-time. His biggest accomplishment was bringing USTA's Tennis Link to Active for managing the registration for leagues and tournaments.
When tennis was booming in the 1970s, Shafer had a front-row seat and saw all of the great champions like Jimmy Connors, Eliot Teltscher, Pete Sampras, Michael Chang, Tracy Austin, Lindsay Davenport and the Williams sisters before they became stars. "Back then you had to play the local tournaments to work your way up to the Sectionals to be designated by your section to play the Nationals," Shafer said. "The Williams sisters were unique, I gave them racquets at 7 and 9, much to the angst of the company because Wilson's racquet program didn't start until you were 12. I just believed in the two girls. Not sure how much of it was their dad Richard that talked me into it."
Shafer's strength was in team sports growing up and he played Division I football and basketball in college for Utah State before transferring to NAIA Westminster College in Salt Lake City. He had a tryout with the Oakland Raiders before a knee & shoulder injury ended his football career. That led to his job as the Wilson Sales and Marketing Manager in Los Angeles for professional sports and working with the Rams, Angels, Lakers, Dodgers, Padres and Chargers.
After serving as a territory sales manager and then a regional sales manager for Wilson in So. Cal. Shafer and his family moved to the corporate offices in Chicago, handling Tennis Promotions worldwide until 1981, then returned to California as Western Regional Sales and Marketing Manager.
A year after he moved back to SoCal, Shafer became a SCTA Board Member, Section Delegate and currently serves on the Executive Committee. He has also done two, two-year terms on the USTA Nominating Committee.
One of his most memorable assignments was running the tournament desk for the Community College division for The Ojai at the Cabrillo Racquet Club where he got to know Wayne and Kathy Bryan and met the twins as pre-teens, one of his lasting friendships.
Shafer said his fondest tennis memory thus far, was giving the International Tennis Hall of Fame induction speech for his good friend Brad Parks, considered the founding father of wheelchair tennis, in 2010.
Awards Shafer has received include: Service Award from the Orange County Tennis Assoc. (2001); President's Award from the Texas Tennis Coaches Assoc. (2002); Service Award California Community College Tennis Coaches Assoc. (1996 & 2002) and Lifetime Service Award Ojai Tennis Club (2004).