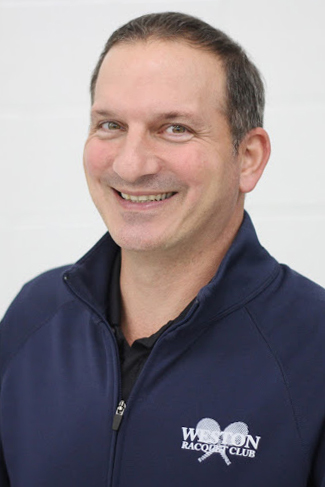 Angelo currently serves as the Director of Tennis at Weston Racquet Club, An Ivan Lendl Tennis Center. He is a USPTA P1/Elite & PTR teaching professional, being first certified in 1992. He was elected in 2017 as one of the youngest Presidents of USTA Connecticut. Angelo is the world's first and only person to rally a tennis ball consecutively for over 14 hours and the world's first and only person to volley a tennis ball consecutively for over 30,000 shots without a bounce (both with his twin brother Ettore).
Angelo played Varsity tennis at Hamden High School en route to being a top Division I player at the University of Connecticut, where he earned a B.S. degree in Sports Science with a concentration in Sports Marketing. He won the USTA New England Sportsmanship Award in 2005. In 2007, he and his identical twin brother, Ettoré, were ranked #1 in New England Men's Open Doubles and top 10 in singles. Angelo is a 2X Guinness World Records title holder of two different tennis titles; the longest tennis rally and the longest tennis volley rally.
Angelo earned the 2007 USPTA Regional Teaching Pro of the Year & 2007 Open Player of the Year. He earned the National 2009 USPTA Tennis Industry Excellence Award, also for New England in 2008 as well as the National 2016 USPTA Lessons for Life Award by helping to raise over $100,000 for the Save the Children charity. Angelo has coached a women's team and captained and played on a 5.0 and Open USTA men's teams that have all gone to nationals. His most recent certifications are Developing Mental Toughness and USTA High Performance.
In August, 2008, he and Ettoré, set the official Guinness World Record™ for the Longest Tennis Rally totaling 25,944 continuous strokes, lasting over 14 hours and 31 minutes. On August 8th of 2015 Angelo and his brother set their second Guinness World Record™ for the Longest tennis volley rally, 30,576 volleys lasting 5 hours and 28 minutes. These record-breaking efforts were attempted both as athletic tennis feats and as fundraisers for charities. 
Angelo has spoken regularly in the summer at the International Tennis Hall of Fame, where his record is featured in the permanent exhibits. He is philanthropic minded and still raises money for notable charities. He has spoken at many schools and also to over 3,000 people at the Connecticut Invention Convention at UCONN's Gampel Pavilion. Angelo and his wife, Pam, live in Hamden with their daughter, Madison and son, Andrew. Angelo has a passion for caring and inspiring people at every age, on and off the court. He believes in the 4 Gs: Get a Dream, Goal Set, Goal Get and Give Back, which leads to success in tennis and in life. He loves sharing ideas with the written word, as this is his second book after Connection Equity: Relationship Marketing Strategies for Your Business and Life. Angelo maintains a mental skills blog for tennis players and athletes at www.tennacity.org.
About Oscar Wegner and MTM Angelo has this to say, "I first met Oscar in the early 1990s, over 20 years ago when I worked at the Volvo International Tennis Tournament! I got and viewed all of his videos at the time. I was impressed by his passion for teaching, the simplicity of the way he delivered potentially complex concepts and his genuine love of the game. Using his methodology over the years has helped me relay tennis teaching concepts to my students easily. Oscar has a way of delivering material in a passionate, caring way rather than a "know it all" way. I am both happy and proud to be a MTM certified tennis teaching professional."