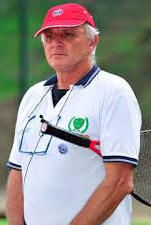 WEBSITE
GPTCA
LOCATION
Bettona, Italy
Alberto Castellani enjoys a long list of accomplishments in the world of tennis coaching.
He is a graduate of the National School for Teachers of the Italian Tennis Federation in Rome, received a degree as Technician-Trainer from the Italian Association of Sport Psychology and is PTR certified, has lectured for over 15 years at the Faculty of Physical Education at Perugia University, and is recognized as an international ATP Coach.
During his more than 30 years of activity as a professional coach he has taken part in more than 300 Grand Prix, ATP, Challenger, Grand Slam and Super 9 tournaments, and acted as a coach of the Taiwanese and Moroccan National Davis Cup teams.
He is Technical Director for tennis teachers and coaches of the UISP (Unione Italiana Sport per Tutti), President of the GPTCA (Global Professional Tennis Coach Association), and current Director of the private group "Il Perugino: the art of tennis", a team of elite coaches who have top 100 and top 50 ATP players.
ATP Top 100 players Alberto has coached over a period of 30 years include: Marc Rosset (career-high: ATP #9), Janko Tipsarevic (career-high: ATP #8), Ivo Karlovic (career-high: ATP #14), Hicham Arazi (career-high: ATP #22), Karim Alami (career-high: ATP #25), Adrian Voinea (career-high: ATP #36), Rainer Schuettler (career-high: APT #5) as his mental coach.